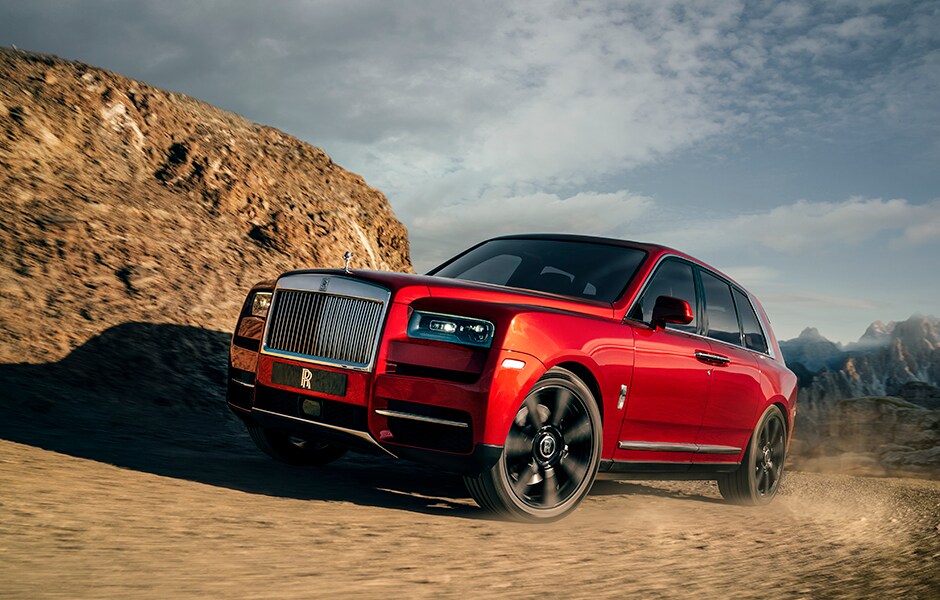 Rolls-Royce Cullinan Order Inquiry
* Indicates a required field
Hours
Monday

9:00AM - 7:00PM

Tuesday

9:00AM - 7:00PM

Wednesday

9:00AM - 7:00PM

Thursday

9:00AM - 7:00PM

Friday

9:00AM - 6:00PM

Saturday

9:00AM - 6:00PM

Sunday

Closed
EFFORTLESS EVERYWHERE: THE ROLLS-ROYCE CULLINAN

When Rolls-Royce announced three years ago that it would launch Cullinan, it did so in the knowledge that its customers around the world had asked it to build "The Rolls-Royce of SUVs", with luxury, performance and usability not seen before in the SUV market. Many of these customers were younger, very successful high-net-worth individuals who are heavily engaged in the experience economy, and wanted a Rolls-Royce that would take them to the ends of the Earth in ultimate luxury.

Automotive mobility has always been a fast moving and dynamic business, with new concepts - such as SUVs - appearing with great regularity. But those new concepts need to be perfected in order to be adopted by those customers who will accept no compromise - the patrons of true luxury. Hence the Rolls-Royce Cullinan.

"History set our precedent, and today Rolls-Royce answers its call to action," comments Müller-Ötvös. "Our answer to the visionaries, adventurers, explorers and those who believe in the supremacy of liberty is the Rolls-Royce Cullinan."

What is Cullinan?

The Rolls-Royce Cullinan is Rolls-Royce as it's never seen before. When Sir Henry Royce said, "Strive for perfection in everything you do. Take the best that exists and make it better. When it does not exist, design it", he could have had Cullinan in mind.

"We knew we had to offer our clients what they couldn't find in the SUV market," continues Müller-Ötvös. "They do not accept limitations or compromises in their lives. They are the new pioneers, and for them it's about their sense of adventure and daring in how they live their experiences. This approach to life demands a motor car that can go-anywhere in ultimate luxury and style - Rolls-Royce style. Hence Cullinan."

It was clear that these new, younger and more adventurous customers wanted a Rolls-Royce that would take them completely off the beaten track and reward them with life's most enriching experiences. What they didn't want was a vehicle as ubiquitous as an SUV with compromises such as increased cabin noise due to the "two-box" formula; shared platforms that affect performance and comfort; the choice of being good either on-road or off-road; or a lower, more featureless SUV that blends in and becomes just another car.

"Cullinan is luxury in its purest form blended with perfect practicality and off-road capability," comments Müller-Ötvös. "Effortless, Everywhere is not just the promise behind Cullinan. It's the fact."

News Articles:
"Rolls-Royce Cullinan Goes Off-Road with Grace and Style"
~Robb Report